B-7000 Glue Adhesive, 0.1 fl. oz.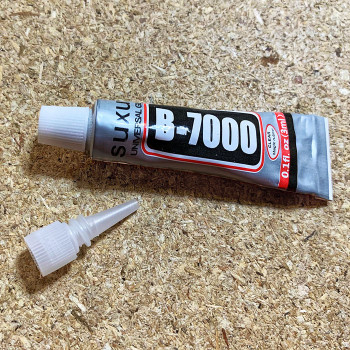 Product Code:

B-7000 - Glue

Availability:

In Stock
0.1 fl oz Tube

Clear, Multi-Purpose Adhesive with Applicator Tip.

HIGH PERFORMANCE: Self leveling Adhesive with High Elasticity -- for use on Electronic Components, Jewelry, Toys, Metal, Glass, Rubber, Fiber, Paper, Ceramics, Wood, Cloth, Textile, Nylon, PVC, Leather, and other materials.

B-7000 HIGH Performance Glue outperforms Silicons, Acrylics, and Rubber Cements because it adheres to more surfaces with greater durability. B-7000 provides a superior bond on stubborn porous and non-porous substrates.

APPEARANCE: Semi-transparent floating body - Solid Content: 30%-35% - after curing, hardness is 65-80A. Surface drying time is approx. 3 - 6 minutes. Complete cure time: 24-48 hours. Store at 50 to 82 degrees F.

SPECIALLY DESIGNED PRECISION TIP: Allows for small adhesive drops for precise, controlled, no mess applications

NOTE: This adhesive is not an epoxy.
Keep out of reach of children. Use in ventilated space.


---