AZC-001 Ceramic Zirconia Shirt Button - 3 Sizes, Priced per Dozen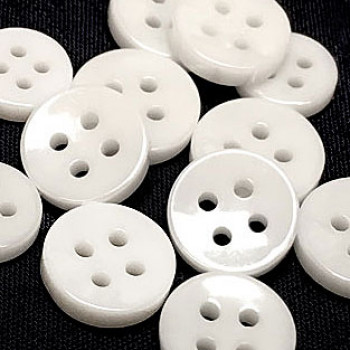 Product Code:

AZC-001 - White

Availability:

In Stock
For production orders, please call 214.634.2324.
Available Options
3 Sizes: 9mm, 10mm, 11mm / 2.5mm thickness (Collar, Sleeve Gap, and Shirt Front sizes) -Sold by the Dozen-
Color: White Jade

Benno's Ceramic Zirconia 4-Hole Shirt Button is Practically Unbreakable! Hardest Shirt Button Material Available. The Elegant and Versatile Slightly-Cupped Shape Makes it the Perfect Button for Dress/Sport Shirts, Tuxedo Shirts, or Fine Polo Shirts.

• high strength
• high fracture resistance
• high hardness
• wear resistant
Zirconia oxide has the highest strength and toughness at room temperature of all the advanced ceramic materials.
The fine grain size also allows for extremely smooth surfaces

.
Lab Tested to Withstand Higher Pressures and
Temperatures

:
Hardness Test: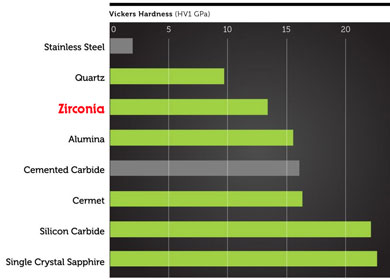 Temperature Test:
| | | | | | | |
| --- | --- | --- | --- | --- | --- | --- |
| Property | Minimum Value | Maximum Value | Units | Minimum Value | Maximum Value | Units (Imp.) |
| Maximum Service Temperature | 1248 | 2522 | K | 1786.73 | 4079.93 | °F |
| Melting Point | 2823 | 2973 | K | 4621.73 | 4891.73 | °F |